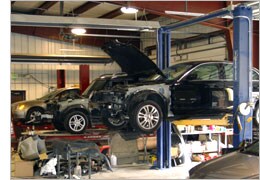 Once your estimate is complete, your vehicle starts its repair process at our state-of-the-art, environmentally friendly facility. Our technicians complete several steps to ensure a quality repair.

After ordering any necessary replacement parts for your vehicle, a craftsman removes all damaged elements. This allows our technicians to concentrate on any damage that may have been done to the vehicle's inner-structure.

After the structure has been restored, the ordered parts are then installed.

At Mid Atlantic Collision, we combine up-to-date techniques in our three downdraft paint booths with top-quality BASF paints that give your vehicle the first-class look of a showroom car.

Ready to Make an Appointment?  Fill out our appointment form and we'll get right back to you!